The Best Western Hotel in Canton, NY is undergoing some changes. The ground has been broken for the construction of a new entrance on the Main St., Canton, NY location. Justin Chapman, the General Manager of the hotel, says that it is time for a fresh look for the hotel. Harvey Excavation, of Chase Mills, NY will be doing the construction. Pictured from left-to-right are Bob Hance, Justin Chapman, Bob Harvey, and Pete Ames.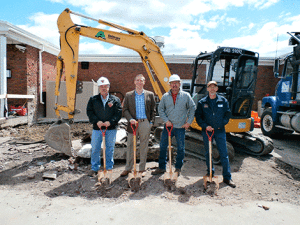 The Best Western University Inn in Canton, NY features a championship golf course adjacent to its location. It has 99 rooms, a full service restaurant, and a swimming pool. Justin Chapman says the new entrance will connect the conference areas and the hotel lobby. The work is expected to be completed by fall or winter 2015.
John Meyers, Taxi Zero, serving Potsdam and Canton NY with service to local and regional airports.