Tony Collins, the 16th President of Clarkson University, has been nominated to serve on the St. Lawrence Seaway Development Advisory Board. The board consists on five members who determine the general policies of the Seaway Development. The nomination goes before the US Senate for consideration.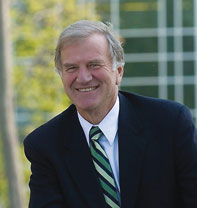 Tony Collins is originally from Melbourne, Australia. He came to Potsdam, NY in 1982 as an Associate Professor at Clarkson in the Civil Engineering department. He became a full professor and took on administrative duties. In 2003, he was selected as the Universities 16th president. In July 2011, NY Governor, Andrew Cuomo, appointed Tony Collins to serve as co-chair of the North Country Regional Economic Development Counsil.
Tony, and his wife, Karen, reside in Potsdam, NY and are active in helping many volunteer activities and youth programs.